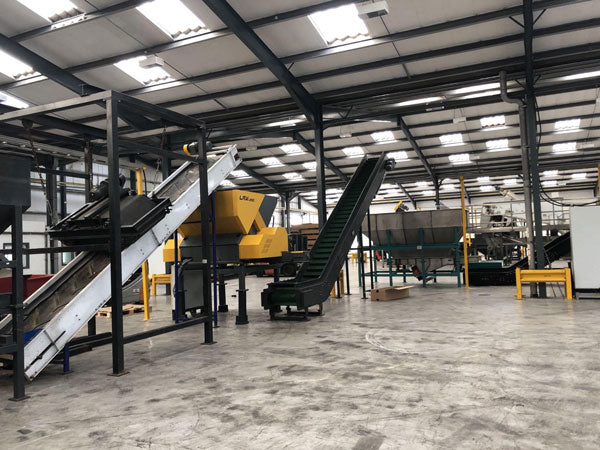 Pre-process line
Shredding and feeding: The raw materials are large sizes and contain a certain amount of metals and impurities. The pre-process line uses permanent magnetic equipment to eliminate metals contained in the raw materials and shred into small pieces for further processes.

Initial line
First separation and purification of ABS/PS/PP/PE with impurities: The line purifies the plastic and eliminate impurities such as electrical cables, small metal, glass granules. The plastic goes into a salt water floating system. The floated parts are ABS/PS/PP/PE mix, the sink parts are heavier materials which then go into the water table to separate metals and sink plastics.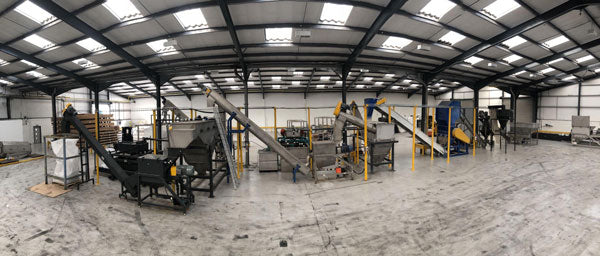 Process line
Further separation of ABS/PS and PP/PE: The process line further purifies the plastics and sorts them based on the plastic types. The plastic goes into pure water floating system. The floated part is PP/PE mix, the sink part is ABS/PS. The separated materials are both dried by spinners and packaged ready for dispatch.

Professional
Untha LRK 1400

Our LRK 1400 is one of the most important tool on our production line. It is able to produce thinner and finer granules for our separation line.


Untha RS40

Our RS40 shredder is the first processing equipment used in our plastic recycling. It breaks the raw waste plastics or large plastic blocks into small pieces, which enables further processing.

Feeding system

Our Feeding equipment helps to process the shredded materials, feeding it to a zigzag sorter or cyclone sorter with high frequency vibration.

Floating tank

Our Floating system is able to separate different types of plastics and other contaminants contaminations by making use of the different physical properties in associated with different plastics.